Halwa is an Arabic dessert. This incredibly delicious dessert is also famous in Asian countries. Traditionally Halwa is made with lots of dairy ingredients like milk & butter and with sugar. Today we will take a healthy vegan route to get the same wonderful taste as a traditional Halwa. We will prepare a sugar-free vegan Mung Bean Halwa.
Mung Beans are a marvellous source of plant-based protein. Protein is crucial for some fundamental internal tasks, including muscle-building, formation of new cells, boosting bone health, and improving the haemoglobin level. Mung Beans are also packed with soluble and insoluble fibre. Soluble fibre makes you feel fuller for longer and promotes the digestive system. At the same time, insoluble fibre keeps your bowel movements on track. It also helps in your weight loss journey. The antioxidants in mung beans can significantly improve your heart health. It restricts the oxidation of LDL, develops blood circulation by keeping the arteries clear, and decreases the blood sugar level. Mung Beans are also very beneficial for pregnant women. They have folate, vitamin B9, & folic acid which are particularly important for pregnant women. These nutrients raise folate levels and red blood cells which is crucial for the baby's growth.
We have used low-calorie almond milk as the vegan milk substitute. Almond milk is rich in calcium, vitamin D, vitamin E, protein, and minerals. It is great for weight loss, bone health, heart health, and better sleep. Almond milk also improves the texture and health of your skin and hair. It significantly helps your body to manage free radicals.
And lastly, we have made this Halwa sugar-free with the help of Stevia. Stevia is an organic plant-based sweetener that has its own health benefits. It helps to control blood sugar levels, aids weight loss, improves oral health, controls cholesterol, and obviously helps you to deal with your sugar rush.
So, let's take a journey to the guilt-free pleasure of a mouth-watering dessert. Here is the full recipe for Vegan Mung Bean Halwa.
---
Want to learn more? These Blogs may also interest you. Click HERE or HERE or HERE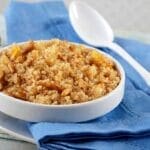 Print Recipe
Vegan Mung Bean Halwa
Ingredients
1

cup

dry mung bean

2

tablespoon

sunflower oil

1

tablespoon

stevia

1/4

teaspoon

cardamom powder

1/2

cup

almond milk

low fat

5

almonds

chopped

5

pine nuts

chopped
Instructions
Soak the dry mung bean in water for 4 hours. Then drain the water. Add the mung bean into a food processor and make a smooth paste.

Now heat the sunflower oil in a saucepan. Add the mung bean paste. Fry on a medium heat for 5 minutes.

Now add almond milk, cardamom powder, and stevia. Cook on a low heat for 20 minutes. Stir constantly.

Garnish with chopped almonds and pine nuts.
Nutrition
Calories:
147
kcal
|
Carbohydrates:
11.4
g
|
Protein:
4.3
g
|
Fat:
9.8
g
|
Saturated Fat:
0.9
g
|
Sodium:
19
mg
|
Potassium:
160
mg
|
Fiber:
4.2
g
|
Sugar:
1.9
g
|
Calcium:
19
mg
|
Iron:
1
mg