Natural Treatments for those Pesky Parasites.
Constipation, Diarrhoea, Vomiting, Stomach Pain, Fatigue, or perhaps Loss of Appetite??? These can all be signs you may be sharing your body with a nasty Parasite. Parasitic Infections have become a lot more common with more and more people travelling internationally, they are generally acquired through contaminated food or water.
If you have travelled abroad and come back feeling a little "off", particularly an unwell stomach then there is a great chance you may have a pesky Parasite. Our well trained and qualified team of Clinical, Nutritionists and Naturopaths can help treat Parasitic Infections naturally with a Parasite Cleanse.
An Anti-Parasitic diet will also be an important factor to consider when killing these nasty invaders. Focus on plenty of vegetables and probiotic-rich foods (such as sauerkraut, fermented vegetables, yogurt and kefir), these foods will support and increase your gut flora (the good bacteria). Avoid grains and sugar (including fruit while you're doing a Parasite Cleanse), as this will help reduce the bad bacteria and fungus parasites can feed off.
Make sure you also incorporate plenty of Anti-Parasite foods such as pumpkin seeds (the number one weapon you will want in your diet), fresh herbs like oregano and ginger (our Holistic Naturopath's and Nutritionists can you give you a more comprehensive list suited to you) and coconut oil.
If you think you may be living with Parasites, don't delay. Head on into one of our clinics at Wavell Heights or Cannon Hill or call us today. Our Holistic Health professionals will have the right natural approach, tailored specifically to you.
---
Want to learn more? We have these Blogs that may also interest you. Click HERE or HERE or HERE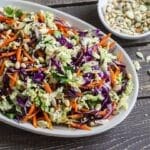 Print Recipe
Probiotic Pumpkin Seed Slaw
A crispy simple coleslaw that is rich with probiotics and bursting with fibre. This salad will support and boost the health of your microbiome and is perfect when treating Parasite Infections.
Ingredients
Salad
1 1/2

Cup

Green cabbage

thinly shredded

1

Cup

Red cabbage

thinly shredded

2

Carrots

peeled and grated

3

Celery stalk

thinly sliced

1/2

Red Onion

peeled and finely diced

1/3

Cup

Pumpkin seeds

lightly toasted

1/4

Cup

Pinenuts

lightly toasted
Dressing
1

Cup

Probiotic goat's milk kefir

1

Tbsp

Dijon mustard

1

Tbsp

Lemon Juice

2

tsp

Apple cider vinegar

2

Tbsp

Parsley

leaves finely chopped

2

Tbsp

Mint

leaves finely chopped

1/4

tsp

Celtic sea salt

Pepper

freshly ground (to taste)
Instructions
Combine the all the prepared salad ingredients in to a large bowl and toss together, (only add seeds/nuts just prior to serving so they stay crunchy).

In a small bowl, whisk together the dressing ingredients until smooth.

Drizzle the dressing over the salad and toss through.

Serve as a side with your choice of vegetarian or lean protein source.
Nutrition
Calories:
182
kcal
|
Carbohydrates:
14
g
|
Protein:
9
g
|
Fat:
11
g
|
Saturated Fat:
2
g
|
Polyunsaturated Fat:
2
g
|
Monounsaturated Fat:
2
g
|
Cholesterol:
8
mg
|
Sodium:
240
mg
|
Potassium:
341
mg
|
Fiber:
4
g
|
Sugar:
8
g
|
Vitamin A:
128
IU
|
Vitamin C:
43
mg
|
Calcium:
14
mg
|
Iron:
12
mg