This vegan meatloaf is a scrumptious option to add to your dinner table. The mixture of chickpeas, flaxseeds, cooked vegetables, and breadcrumbs gives it a hearty texture while providing a lot of protein, fibre, and added nutrients.
One of the recipe's key ingredients is flaxseed powder, which gives the recipe proper binding and texture. Flaxseed is one of the oldest crops being grown from the beginning of civilisation. Flaxseed is a rich source of omega-3 fatty acids. It reduces inflammation. It is also very helpful to cut down the amount of cholesterol in your blood vessel. It reduces the risk of ischemic heart disease and stroke.
Flaxseed is also full of fibre. It is one of the very few foods that contain both soluble & insoluble fibre. Soluble fibre absorbs the water in the intestine, rectifies the blood sugar level, and lowers bad cholesterol. While insoluble fibre improves your gut health by ensuring bowel consistency and alleviating constipation.
Flaxseed helps prevent insulin resistance and thus manages blood sugar levels making it helpful with type 2 diabetes. And if you are aiming to control your weight, then flaxseed can be a magic food. It slows down the digestive system and makes you feel "full" for longer.
Another key element of this recipe is Chickpea, a super-rich source of vegan protein. It is also rich in minerals like potassium, magnesium, manganese, folate, and vitamin C & vitamin B6. It helps to build muscle mass, improves the health of the body cells and develops bone health. It also helps to manage your blood sugar level while taking care of your heart health. Chickpea is also a great skin and hair anti-aging food.
Let's take a look at the delicious vegan meatloaf recipe.
---
These Wellness Blogs may also interest you. Click HERE or HERE or HERE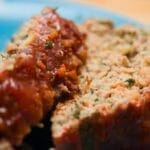 Print Recipe
Tasty and Delicious Vegan Meatloaf
Ingredients
2

tablespoons

extra-virgin olive oil

2

red onions

sliced

2

teaspoons

grated garlic

1

teaspoons

grated ginger

1

red bell pepper

diced small

1

green bell pepper

diced small

1

carrot

diced small

2

celery stalks

diced small

1/4

cup

mushroom

finelly chopped

Salt to taste

1

tablespoon

pepper

2

cups of

chickpeas

drained and rinsed

1

cup

breadcrumbs

vegan

3

tablespoons

flaxseed powder

1

tablespoon

soy sauce

4

tablespoons

tomato paste

1

tablespoon

mustard paste

4

tablespoons

tomato Sauce

2

teaspoons

vegan Worcestershire sauce
Instructions
Preheat the oven to 180C. Take a 9-inch loaf pan and grease lightly with a cooking spray.

Heat the olive oil into a saucepan. Add onion, garlic, and ginger. Sauté for 2 minutes. Then add red bell pepper, green bell pepper, carrot, celery, and mushroom. Sprinkle salt and pepper. Sauté for 5 to 7 minutes. set it aside.

Take chickpeas into a food processor. Pulse a couple of times. Don't make it mushy. Keep the chickpeas a little coarse.

Now add the sautéed vegetable, a pinch of salt, flaxseed powder, soy sauce, tomato paste, and mustard paste. Mix well.

Add the loaf mixture into the loaf pan. Press evenly. Bake for 30 minutes.

Take a small bowl and add tomato sauce and Worcestershire sauce. Mix thoroughly. Spread evenly over the cooked mixture in the loaf pan. Bake for another 10 minutes.
Nutrition
Calories:
438
kcal
|
Carbohydrates:
68.7
g
|
Protein:
18.2
g
|
Fat:
11.4
g
|
Saturated Fat:
1.5
g
|
Sodium:
455
mg
|
Potassium:
1015
mg
|
Fiber:
16.2
g
|
Sugar:
16.5
g
|
Calcium:
134
mg
|
Iron:
8
mg