When we talk about plant-based foods from the Middle East like this wonderful Pomegranate Cake, we cannot forget the beautiful, gorgeously ruby red gem of nature pomegranate. This fresh and divine fruit can be a great option for low-calorie foods, especially as a sweet substitute. This nutritious fruit is naturally sweet and filled with numerous health benefits. It possesses anti-viral, anti-oxidant, and anti-tumour health properties in a large amount. It also has a huge amount of Vitamin A, Vitamin C, Vitamin E, and folic acid, which is wonderful for pregnant women. Regular pomegranate consumption can greatly enhance your overall immunity, reduce sugar-craving, battle type-2 diabetes, boost the digestion system, and maintain the blood pressure in check. Pomegranate works as a memory booster as it contains polyphenols. Polyphenols are well-known for their brain functions, improving impacts. As a bonus pomegranate gives you is glowing skin and has a beneficial impact on hair growth. All-round wonderful!
You might have consumed pomegranate in various ways. This versatile fruit is as delicious as it is. People worldwide use pomegranate to prepare jams, jelly, molasses, sweet sauces, vinaigrettes, and salad dressings. But today, we are going to learn to make a delicious dessert of pomegranate. This is an egg-less pomegranate cake with vegan cream cheese frosting and pomegranate seeds. The recipe also has pomegranate juice to reduce the amount of sugar. So, you can indulge this pure delicacy without any guilt. And Pomegranate juice itself is very beneficial for health. It is quite low in calories comparing traditional cakes. To reduce the carb content, we have used roasted and powdered pistachios along with the all-purpose flour. These small changes have made the cake healthier and even more delicious. I mean, there shouldn't be any compromise when it comes to dessert. So, let's jump into the delicious steps of the tasty pomegranate cake.
---
Want to learn more? We have these Blogs that may also interest you. Click HERE or HERE or HERE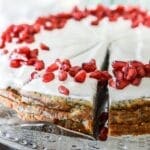 Print Recipe
Pomegranate cake
A vegan pomegranate cake with vegan cream cheese frosting. This cake is low in calories and extremely tasty and easy to make.
Ingredients
1

cup

soy yoghurt

1/2

cup

all-purpose gluten free flour

1/2

cup

pistachio nuts

roasted and powdered

1

teaspoon

baking powder

1

teaspoon

baking soda

1/4

cup

brown sugar

1/4

cup

pomegranate juice

4

tablespoons

olive oil

1

teaspoon

vanilla extract
For the Frosting
1/4

cup

vegan cream cheese

1

tablespoon

icing sugar

1/2

cup

pomegranate seeds
Instructions
Preheat the oven to 180C. Lightly grease a round baking pan.

Combine soy yoghurt, vanilla extract, and brown sugar in a mixing bowl. Beat thoroughly with an electric egg beater. Now add the olive oil & pomegranate juice and mix well.

Mix in all-purpose flour, roasted and powdered pistachio, baking soda, and baking powder. Mix properly with the help of a spatula. Make a smooth batter.

Pour the cake batter into the baking pan. Bake for 20 to 25 minutes. Let it come to room temperature before adding the frosting.

To make the frosting, combine vegan cream cheese and icing sugar in a mixing bowl, mixing thoroughly.

Spread the cream cheese frosting over the top of the cake evenly. Sprinkle the pomegranate seeds. Serve.
Nutrition
Serving:
10
g
|
Calories:
155
kcal
|
Carbohydrates:
15.5
g
|
Protein:
2.8
g
|
Fat:
9.7
g
|
Saturated Fat:
2.3
g
|
Sodium:
163
mg
|
Potassium:
141
mg
|
Fiber:
0.8
g
|
Sugar:
8.4
g
|
Calcium:
7.9
mg
|
Iron:
1
mg