Congee is one of the most useful, functional, and healing foods and this is why.
People from all over the world love to indulge in Chinese cuisine. The spicy blending of different ingredients and varieties of cooking processes has made Chinese cuisine popular in almost every corner of the world. But there is a version of Chinese food which is yet to be discovered by many of us. That is the Medicinal Food of China. China has used food as medicine from the very beginning of their civilization. They have numerous healthy and healing food recipes that are still as beloved as ever and this includes Chinese Rice Porridge or Congee
Also known as Jook, it is basically a rice porridge cooked over low heat with an ample amount of water or stock and is cooked longer to make it extra mushy and digestible. That's why it is great for older people, babies, people with long-time illnesses, and patients with gastrointestinal problems. Chinese doctors and nutritionists often suggest eating congee as a breakfast dish as it prepares our stomach to function properly throughout the day.
The main benefit of Congee is the hydration of our entire body which is a crucial requirement for the healing of many diseases. Rice absorbs a lot of water when cooked normally. And when we prepare Congee, we cook it with way more water or broth than usual. This extra water slowly hydrates our body throughout the day. Another fascinating thing about Congee is that it is effective for both Constipation and Diarrhea. Congee is easy to digest and provides hydration to the body which is essential to cure diarrhea. It also moistens the cells of the intestinal area so that it helps to reduce your constipation issues. And if you are thinking about weight-control, Congee has way fewer calories than any normal rice dish.
You can cook congee in both sweet and savoury ways. Let's take a look at the savoury version of the recipe.
---
Want to learn more? We have these Blogs that may also interest you. Click HERE or HERE or HERE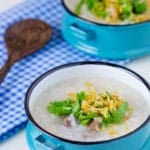 Print Recipe
Congee (Chinese Rice Porridge)
a Vegan and gluten-free medicinal meal, supporting the recovery and maintaining of good health
Ingredients
1

cup

Brown rice

long grain rice

10

cup

Vegetable stock

1

tbsp

Olive oil

2

tbsp

Chinese preserved radish

minced

1

tbsp

Ginger root

minced (fresh)

1/2

cup

Shiitake mushrooms

(fresh)*

Salt and pepper

to taste
Garnish:
1/3

cup

Spring onions

thinly sliced

1/4

cup

Coriander

freshly chopped

3

tbsp

Preserved ginger

thinly sliced

6

tbsp

Soy sauce
Instructions
Heat the olive oil in a large stock pot over medium heat. Add the ginger, radish, garlic and mushrooms, sauté until mushrooms are softened.

Add the rice, stock and season with a little salt and pepper to taste. Bring to a boil and then reduce heat to low. Simmer, uncovered, stirring occasionally for approximately 1 hour or until the rice resembles the consistency of porridge.

Adjust seasonings and serve hot with garnishes sprinkled over the top.
Notes
* If substituting the fresh shiitake mushrooms with dried, ensure to pre-soak in boiling hot water for 20 minutes.
Nutrition
Calories:
162
kcal
|
Carbohydrates:
33
g
|
Protein:
5
g
|
Fat:
1
g
|
Saturated Fat:
1
g
|
Sodium:
2598
mg
|
Potassium:
227
mg
|
Fiber:
2
g
|
Sugar:
4
g
|
Vitamin A:
935
IU
|
Vitamin C:
2
mg
|
Calcium:
18
mg
|
Iron:
1
mg