Suffering from Holiday Inflammation or Bloat? You need to try this Quinoa Salad.
Most people tend to "relax" a little over the holiday season when it comes to their healthy habits. Exercise may have been put on hold, an extra drink or two consumed and plenty of sugary or fatty foods may have also passed your lips. If you find yourself in this group of people (and let's be honest most of us will be), you may find yourself suffering from Inflammation and Bloat. Unhealthy foods, alcohol and limiting exercise, will contribute to and increase inflammation in the body.
If you are wanting to combat and reduce the inflammation load in your body, the best place to start is diet. It is important to avoid processed foods, alcohol and sugary treats and ensure you are eating plenty of anti-inflammatory foods. A balance of complex carbohydrates, healthy fats and quality proteins (particularly plant-based) should be present at each meal.
Foods that are high in antioxidants (such as brightly coloured fruits and vegetables) will go along way in the fight against inflammation. Other foods such as fresh ginger, lemons and walnuts all contain anti-inflammatory properties and are an excellent addition to your daily diet.
This Quinoa salad is the perfect anti-inflammatory meal. Not only is packed full of everything you need to reduce and prevent inflammation, but it is also full of flavour satisfying even the fussiest of eaters including some of us here.
---
Want to learn more? We have these Blogs that may also interest you. Click HERE or HERE or HERE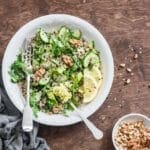 Print Recipe
Anti-inflammatory Quinoa Salad
A delicious salad to help reduce and prevent inflammation
Ingredients
Salad:
1 1/2

cup

Quinoa

dry*

2

cup

Rocket leaves

washed

1

Lg

Cucumber

thinly sliced

1

Lg

Avocado

cubed

1/4

cup

Walnuts

roughly chopped

1/4

cup

Pinenuts

2

tbsp

Sesame seeds
Dressing:
¼

cup

Avocado oil

1 ½

tsp

Ginger

freshly minced

1

tbsp

Yellow miso paste

3

tbsp

Lemon juice

freshly squeezed
Instructions
Cook the quinoa accordingly to packet directions. Once done fluff with a fork, transfer to a container and place in the fridge to chill.

When you are ready to serve the salad, add the cooked and chilled quinoa to a salad bowl. Add in the remaining salad ingredients and lightly toss.

Add all the dressing ingredients to a small bowl and whisk together with a fork until well combined.

Drizzle the dressing over the salad and gently toss through. Serve immediately.
Notes
*Cook the quinoa ahead of time to allow for chill time.
Nutrition
Calories:
500
kcal
|
Carbohydrates:
46
g
|
Protein:
13
g
|
Fat:
31
g
|
Saturated Fat:
3
g
|
Sodium:
165
mg
|
Potassium:
520
mg
|
Fiber:
6
g
|
Sugar:
1
g
|
Vitamin A:
4.7
IU
|
Vitamin C:
7.1
mg
|
Calcium:
9.7
mg
|
Iron:
25
mg