What Is Traditional Chinese Medicine
Traditional Chinese Medicine (TCM) has been in use for thousands of years to treat, diagnose, and prevent disease. Conventional medical practices have continued to embrace Eastern medicine alternatives, also known as integrated or complementary methods of treatment. Traditional Chinese Medicine encompasses a natural and holistic health care system that began about 2,000 years ago.
TCM is considered holistic because it stimulates the body's own natural healing mechanism and takes into consideration the life of the patient. The treatment method does not only recognise the visible signs and symptoms but views the body as a series of interconnected organs. The broader concept is known as Qi and does not isolate separate organs or systems. The primary focus is on understanding life, fighting diseases accumulated in daily life, and maintaining health.
How Traditional Chinese Medicine Works
TCM works by correcting problems in the body in three significant ways:
Addressing the external factors and environment of a patient
Helping patients manage stress by relating to their internal emotions in a healthy way
Improving lifestyle factors like exercise, routine and diet.
The practise mainly focuses on significant organs like the heart, kidneys, liver, spleen, gallbladder, small and large intestines, and the lungs. Depending on the specific type of therapy applied, Traditional Chinese Medicine presents a lot of health benefits for a patient.
What does Traditional Chinese Medicine Treat
Traditional Chinese Medicine has traditional evidence to support the use in the treatment of:
Acute lower back pain

(1)

Chronic pain 

(2)

Migraines and headaches 

(3)

Women's health concerns such as painful periods, fertility support

(4)

Menopausal symptoms such as hot flushes and anxiety
Perimenopausal and menopausal insomnia
Pregnancy symptoms such as nausea, vomiting and musculoskeletal pains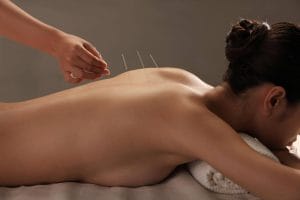 6 Types of Techniques Used in Traditional Chinese Medicine
TCM encompasses several methods designed to help people remain healthy and deal with various conditions not treatable by conventional medicine.
1. Acupuncture
Acupuncture refers to the approach of inserting needles into the subcutaneous tissue of the superficial skin. The aim is to manipulate muscles at acupuncture points to improve hormonal balance, lower pain, and combat stress. It is believed that the body has close to 2,000 acupuncture points, all of which are connected by the meridians that conduct energy. Qi, or energy, travels through these meridians between the internal organs and the surface of the body. Acupuncture serves to allow for the normal flow of Qi in the whole body, hence restoring it to a healthy status, both physically and emotionally.
2. Tui Na Massage
Tui na is a combination of acupressure, massage, and other forms of manipulation of the body. It is an Asian bodywork technique that has widely been used in China for many years. Before treatment, the practitioner asks the patient some questions that determine the kind of treatment required. Massage therapy can be extremely vigorous and involves the use of ointments and herbal compresses to make the technique more effective. The method is best suited to treat musculoskeletal conditions and chronic pain.
3. Moxibustion
It refers to a type of therapy that entails burning mugwort root or moxa made from a spongy herb to enhance healing. When moxa is heated, it produces a lot of smoke and a repulsive odour that closely resembles that of cannabis. Inhaling the smoke helps invigorate the blood, strengthen the kidneys, stimulate the flow of Qi, dispel cols, expel wind, and dissolve stagnation. Historically, the therapy was also quite useful in treating menstrual pain.
4. Scraping or Cupping
Cupping is another form of massage in Chinese culture. It entails placing several plastic cups or several glasses on the body. The cups or glasses are warmed using cotton balls which are placed inside the cup to get rid of all the oxygen. The essence is to have the open sphere part of the cups pressed against the skin after removing the cotton balls. As the air inside cools, it creates pressure inside the cup, makes a vacuum and results in the cup sticking to the skin. The fleshy sites that result are considered the best treatment areas. The skin is scraped using pieces of smooth jade, animal tusks, bones, smooth stones, or horns to release obstruction and toxins trapped on the skin. The scraping continues until red spots and bruising appear on the area of treatment.
5. Chinese Herbs
Most of the substances used by TCM practitioners come from different flowers, roots, leaves, stems, and seeds of plants such as ginger, cinnamon bark, ginseng, rhubarb, and liquorice. Ginseng is the most common among them and can be used for the treatment of a broad set of conditions. Chinese herbology recommends the use of herbs combined into a formula that is given in the form of traditional tea, granule, capsule, powder, or liquid extract.
6. Chinese Nutrition
This mode of dieting in China is rooted in the knowledge that food produces various effects on human organisms. In tradition, a balanced diet consists of five tastes, mainly bitter, spicy, salty, sweet, and sour. Foods with specific flavours have particular properties. In Chinese culture, there are no forbidden foods, and no one diet fits all in matters of nutrition. Diet plays a very crucial role in health promotion.
Benefits of Traditional Chinese Medicine
Reduction of headaches and chronic pain
Lowers inflammation
Supports the function of the liver
Can assist with fertility support
Decreases the bodies stress response
Assists with muscle recovery and pain
Supports hormonal health
TCM has been used for years and is beneficial to patients. However, before choosing a Traditional Chinese Medicine practitioner, ensure that they are certified and have undergone consumer-driven development programs.
---
Want to learn more? We have these Blogs that may also interest you. Click HERE or HERE or HERE